Buy Antistatic Vinyl Flooring Dubai 
Request A Free Quote Online
Best Antistatic Vinyl Flooring Dubai Supplier
Antistatic flooring is the emerging and most innovative flooring solution for electrical and electronics related industries & commercial centers. We build it by our 8-step unique formulation with tiny carbon fibers and coating upon tiles to make them antistatic vinyl flooring tiles permanently. It is highly sustainable, looks beautiful, and practical flooring solution. Flooring Dubai brings the best antistatic vinyl flooring Dubai and antistatic vinyl tiles to give you more functional antistatic vinyl floors.
These are ideal for many applications and uniquely designed with premium material to suit your specific requirements. Our top-quality Polyflor antistatic vinyl has homogenous ESD tiles characteristics and highly comply with data center, call center, electronics warehouses, and control room applications. We're the only leading supplier of antistatic flooring, which is offering great quality products at competitive prices. Flooring Dubai also offers you cost-effective Antistatic Vinyl Flooring Dubai installation on a single phone call.
WE ARE PERSONALLY HERE FOR YOU!
Our customer support team will guide you through your shopping process for quick and simple experience.
Versatile Benefits of Antistatic Vinyl Flooring Dubai 
It has moister resistance, fire resistance, and noise reduction characteristics
It is soundproof, antibacterial, and easy to clean ESD antistatic flooring
It can tolerate high temperature, heavy loads, high traffic, and high pressure up to 2000PSI
Antistatic vinyl flooring Dubai provides you with comprehensive protection to static charge
It comes in marble style ergonomic look, sleek designs, comprehensive safety and comfort
Antistatic vinyl sheet flooring highly durable, easy to install, and easy to repair
It withstands high traffic, foot shuffling, reduce damages upon falling fragile or electronic components
Applications of Antistatic Vinyl Flooring Dubai 
Flooring Dubai innovates more advanced antistatic vinyl flooring that complies with many electrical and electronics production area floorings. Our collection complies with Antistatic Vinyl Flooring Dubai.
Data Center
Call Center
Control units
Computer control panel rooms
Digital workshop
Electronic production and research laboratories
Biotech labs and hospital emergency rooms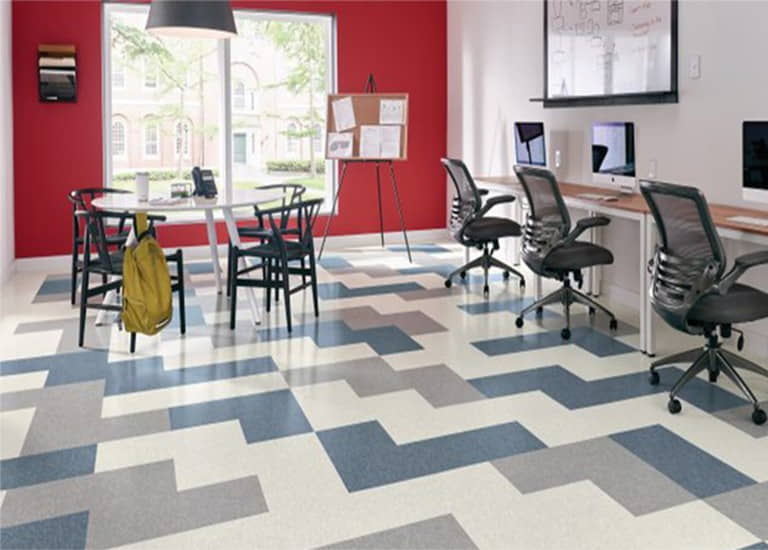 Why Choose Us?
Flooring Dubai is the leading antistatic vinyl flooring supplier across UAE
We offer a versatile collection of Armstrong antistatic VCT floors
We have a team of certified professionals to serve you efficiently Antistatic vinyl flooring Dubai.
We are 24/7 a week available
We offer great quality at the most affordable rates
We are also offering antistatic vinyl flooring installation
Get A Free Appointment Today