Curtains Fixing Dubai Services With Flawless Installation
Flooring Dubai provides the best & professional Curtain Fixing Dubai services. Take your phone and give us a call to get the best Curtains Fixing services at very fewer rates.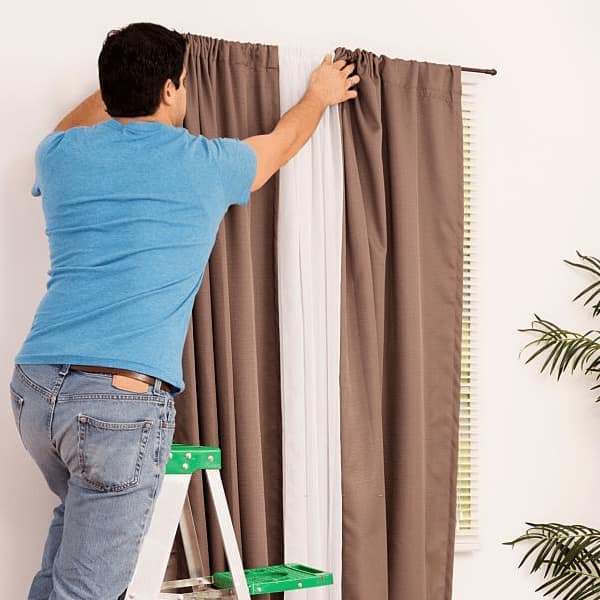 Request A Free Quote Online
Professional Curtains Fixing Dubai, Abu Dhabi Services

Here at Flooring Dubai, we aim to provide something more than the latest window treatments and styling solutions. We believe in providing the best material and services to have our customer's satisfaction. For more than 25 years, we have improved and refined the Curtains Fixing Dubai experience and we are pushing the expectations of our clients to a whole new level.
With our extensive knowledge of blackout curtains, blinds, and their fixing, you can confidently come to us and get the best advice on making a selection. Let you decide which curtain will go best with your interior. We also provide the services of curtain fixing Abu Dhabi. Get our high-end professional services from starting till the end. Starting from the first inquiry, we aim to make you feel fully happy and satisfied with our curtain fixing Dubai services.
Nothing is more important than having a satisfied and returning customer. Browse our website and contact us anytime for the best curtains fixing Dubai, installation, and curtain repair in Abu Dhabi, UAE.
WE ARE PERSONALLY HERE FOR YOU!
Our customer support team will guide you through your shopping process for quick and simple experience.
Tracks, Poles, and Curtain Fixing in Dubai
We provide curtain fixing UAE services. We have a huge collection of all the accessories needed for curtain fixing in Abu Dhabi. From fixing curtain rods to installing the curtains, we will do everything for you. Our curtain rails, tracks, and poles are made of the best quality metal, wood, and plastic. These lovely accessories will enhance the beauty of your curtains. As well we offer expert curtains fixing Dubai services all over the UAE.
it is easy to maintain the elegant theme of your traditional décor with some brass curtain poles. The metallic gleam of our chrome poles will add sophistication to your room. The crisp tone of white curtains will create a refreshing environment. For a unique touch, try our glamorous curtain poles and accessories. Choose your favourite curtain accessories and we will be there at your doorstep with all the tools and your required accessories to install your curtains.
Not only just a curtain pole but the final adds a final touch to the installation of the curtains. You can choose from our finials.
What are you waiting for? Book our team of professional installers and get your curtain fixing Dubai services to add the beauty of your interior decor. From making the selection to the installation of the curtains, we do all for our clients.
Advantages of Curtain Fixing Dubai
Installing curtains in your house not only protects your home from spying eyes but also adds décor to your home. Here are some of the great benefits of Curtain Fixing Dubai.
Curtains control the amount of light coming inside your home. From reducing the glare, they can fully blackout your room. Choose the curtain that serves your needs.
Along with controlling the light, they provide full privacy as well. If you get blackout curtains fixing UAE or some thick fabric curtains, no one will be able to see inside.
They insulate your room and maintain the room temperature. They do not let the inner cold go out and vice versa.
During curtain fixing Dubai, they do not allow the dust to come inside the room. Dust gets collected at the back of the curtains, making a fresh environment to breathe in your room.
Curtain fixing is customizable; you can have them in any pattern, style, shape, and color to match with your interior. You have multiple types of curtains to choose from.
We offer Durable and Long Lasting Flooring Dubai Materials.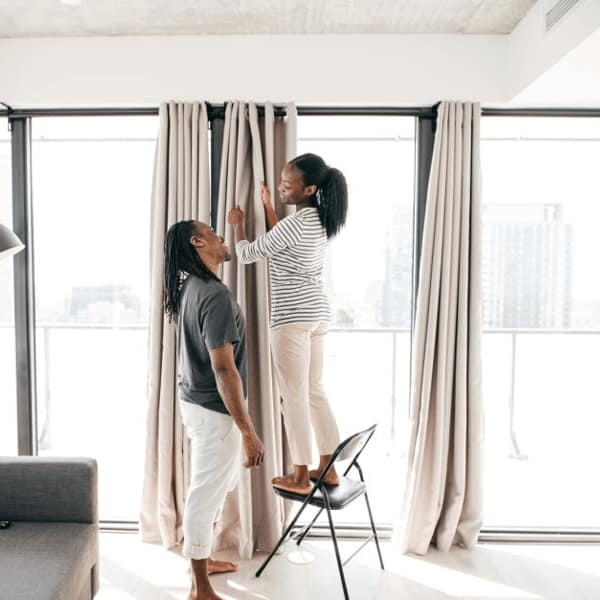 Why Choose Us for Curtains Fitting?
We are providing professional curtains fixing Dubai services at a very reasonable cost. Our curtain fixers are very talented. They do not leave a single extra mark on your wall during the installation process. We also provide curtains, curtain accessories to make it easy for you.
We provide free home delivery of our services and products. No matter where you live in the UAE, our team will reach you and provide you the professional services. They are not going to leave you until you feel happy and satisfied with our curtains fitting Dubai services.
from putting up a curtain pole on plasterboard to installing them on the wall our curtain fixers will do it all. They will leave you after cleaning all the mess that they have created during the installation process. Hire us and make your curtains look bold and flawless.
For further assistance and queries regarding curtains fixing Dubai, call us at 0544366566 or send us an email at info@flooringdubai.com.
Get A Free Appointment Today