Modish Herringbone Wooden Flooring Dubai
Looking for the best quality Herringbone wooden Flooring Dubai? You are at the right place. We serve our customers with the top quality Herringbone wood Flooring all over the UAE.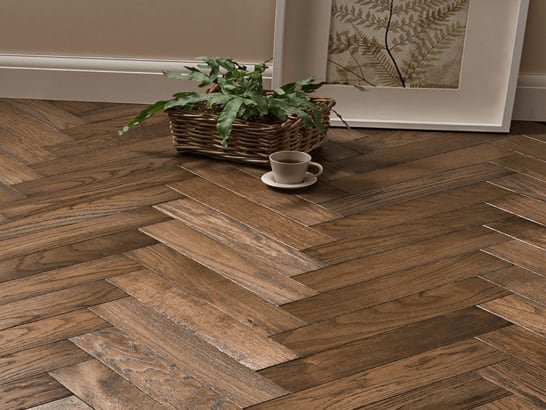 Request A Free Quote Online
Herringbone Wooden Flooring Dubai- Give Lustrous Look To Your Floor 
Do you want to buy the latest, appealing, and durable flooring? And want to get a trendy and stylish atmosphere in your space? If yes, then please come to us. Here at flooring Dubai, we are pleased to offer you herringbone wooden flooring Dubai at very reasonable prices. Basically, herringbone flooring is one of the most exclusive and noticeable floorings and also known as herringbone parquet block flooring. The herringbone pattern wood floor is made of small pattern blocks and can be installed with the click method.
It's 2021, this is the time to create a lustrous look for your home. Now, buy our finest quality herringbone engineered wood flooring and make your place dazzling. 
Herringbone is one of the trendy design floorings in Dubai, and this flooring is most popular because of its texture, patterns, and colors. Here at flooring Dubai, you will find an extensive range of colors, designs, styles, textures of solid wood herringbone flooring at very reasonable prices. Come to us and buy our lustrous look herringbone wooden flooring Abu Dhabi and make your place more attractive and pleasing.
WE ARE PERSONALLY HERE FOR YOU!
Our customer support team will guide you through your shopping process for quick and simple experience.
Installation of Herringbone Wooden Flooring Dubai, Abu Dhabi
If you want a unique look floor and want to feel comfortable with it, then you should buy our chevron pattern wood flooring. Nowadays, the dark wood herringbone floor gaining popularity because of its modern and traditional touch. Therefore, we aim to offer you modern to traditional herringbone wooden flooring in Dubai at pocket-friendly prices. The installation of this flooring is very easy, and also this is very easy to clean, you can install it on your own, or can hire our expert installer team free of cost. If you want to install it on your own then, look at some important steps to install this flooring.
Essential materials that are required during the installation of herringbone wood flooring UAE:
herringbone flooring
adhesive
plywood
spline/slip-tongue
Essential tools:
tape measure
square
chalk line
drill and screws
nailer
Easy and simple Steps to Install Herringbone Wooden Flooring in Dubai
Let's look at important steps to install herringbone flooring. 
Mark the Centerline
Set the Slat Length
Make a Test Panel
Cut the Slats
Add Grooves to the Flat Ends
Set the Working Distance
Mark the Floor
Install the Nailing Blank
Establish the Pattern
Nail the Slats in Place
Finish the Course and Reverse the Blank
Backfill the Empty Triangles
Nail the Border Pieces
Herringbone Wooden Flooring Dubai- Remodel Your Home 
Our herringbone flooring offers endless benefits, whether you use this flooring for commercial use or residential use. This flooring is easy to clean and can bear heavy foot traffic. We offer top-level herringbone wooden flooring Dubai that lasts long and needs very low maintenance. We are an award-winning company in Dubai, Abu Dhabi, and all over the UAE, and we are pleased to offer you the luxury and durable herringbone wood flooring UAE at very reasonable prices. Here at flooring Dubai, you will find herringbone flooring that can immediately transform your home with its luxurious touch. If you want durable flooring, then herringbone wooden flooring in Abu Dhabi is an ideal choice and give extra charm and attractiveness to your floors. If you want to buy our flooring, then get in touch with us and get our stunning services.
We are the Best Choice For Your Flooring
Being the leading supplier and manufacturer of flooring, we are delighted to offer you herringbone wooden flooring in Dubai for sale. Traditionally, herringbone floors are a sign of wealth, and this flooring comes with a budget-friendly price so that everyone can purchase herringbone flooring Dubai easily. At flooring Dubai, we offer an enormous range of styles and types of flooring to choose from. If you are still confused, then visit our trendy gallery or consult with our expert and professional staff, they will guide you in a pleasant manner. We offer free installation, free measurements, free quotation services of herringbone wooden flooring Dubai, Abu Dhabii to our dearest customers. Hurry up, contact us now, and get our services immediately.
Get A Free Appointment Today