Luxurious Roman Blinds Dubai
Find the luxurious Roman Blinds Dubai at Flooring Dubai. We are selling the high-end blinds at market competitive rates. Our aim is to make your home an ideal place to live in. Enjoy our blinds at discounted rates.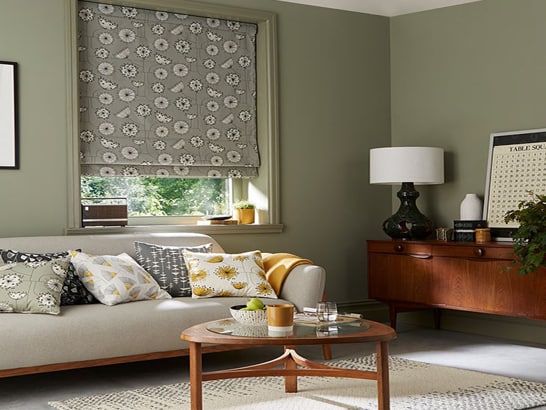 Request A Free Quote Online
Get the Best Quality Roman Blinds Dubai From Us
Find the best quality Roman blinds UAE at Flooring Dubai to dress your window with attractive pleats. Whether you like cheque patterns for the kitchen or floral patterned motorized blinds for your living room, you will find the section of fabric roman Dubai Dubai at Flooring Dubai. Roman shade Dubai are easy to use and they are a stylish and modern window treatment. You can limit the sunlight by hiring or lowering the roman window blinds. Just pull the cord to adjust the blind's height. When you pull the cord the blinds get open forming the lovely fine pleats. Roman window Blinds are fine to be installed anywhere. Create a romantic look with our roman bedroom blinds or make an eye-catching look of your living room with our luxury living room blinds.
If you did not find a perfect roman shade Dubai for your window, then no issue. We provide made to measure Blinds in Dubai as well. We have a good collection of fabrics to choose from. You will surely get perfect roman shade in Dubai from our collection. If you have some theme blinds in your mind, discuss it with our designing team and get your blinds done the way you want them.
WE ARE PERSONALLY HERE FOR YOU!
Our customer support team will guide you through your shopping process for quick and simple experience.
Practical Roman Blackout Blinds in Dubai
Roman window Blinds are not always simple and plain. We have the Blinds in various different fabrics, patterns, stripes, and designs to match your interior. Our Roman blackout Blinds in Dubai are a nice alternative to the curtains. Our blackout fabric roman shades have a thick lining to keep the room and light out. They not only prevent the light from coming inside but also block the unwanted noises. They provide insulation that makes you tucked up in bed even at day time.
We understand that your home is unique and individual like you, that's why we have blinds available in every color including mocha, coffee, chocolate, vanilla, violet, ivory, and many more including the lovely metallic shades to increase the beauty of your room. For cascading and delicate pleats to dress up your window, check our whole collection of Blinds UAE.
Using the best quality material, and verified manufacturing methods, our Roman Blinds Dubai is guaranteed to last long. Our fabric section is made by keeping the quality perimeter in mind so that the quality of the product remains the best. We are proud of our designing team who craft such beautiful designs.
Benefits of Roman Sahde in Dubai 
Roman window Blinds never fail to look gorgeous; they always compliment the interior and never get old.
They play a vital role in uplifting the look of any room. Also, they provide nice privacy to the user.
Because of the insulating material they do not let the outdoor heat enter your room especially in summers. Well, you can say that roman blinds Dubai are energy saving.
They do not let the inner cold go out and regulate the inner room temperature that reduces the need of switching on the air conditioner.
If you are not sure which blinds you should install in your room, go for the Roman shades as they always look gorgeous. They are ideal to be hanged anywhere.
Why Choose Us for buying Roman Sahde?
At Flooring Dubai, we are selling great quality Roman shade in Dubai. Place your order for any design, style, or choice of blinds; we will make it ready the same you have imagined. Call us and discuss your ideas with us. Get your ideas modified by talking with our interior designer. Together we will manufacture a masterpiece for your room.
After manufacturing your roman shades in Dubai, we will send them to your doorstep without taking any delivery fee. Moreover, if you like, we can install your blinds for you. Feel free to talk to us at any time, any day. We are one of the best sellers of Roman Blinds Dubai.
Get A Free Appointment Today