Purchase Your Favorite Motorized Blinds Dubai Online
With Motorized Blinds Dubai and curtain tracks, you can enjoy your privacy and comfort with a click of a button. The fabric looks great for a longer time, well thanks to its smooth operation and less handling.
Request A Free Quote Online
Motorized Blinds Dubai-Convenience in Use
Smart blinds are widely used in UAE for so many reasons. Motorized curtains offer a list of advantages and smart home solutions. They are convenient to use and reduce your energy bills. Motorized Blinds Dubai is operated by an electric device attached to it. The usage of remote control blinds is pretty much in the UAE. . The reason for their popularity is that they do not need to be operated manually. You can even operate them by just resting in your bed. You can also operate them at a distance of 1000 miles. If you want your motorized curtains to open and close automatically, then just set the timer and they will be open and close regularly at your desired time.
Motorized window shades get open and close according to the room temperature. All you have to do is adjust the settings and they will automatically get close when the room temperature is crossing the desired temperature. Motorized blinds Dubai are super amazing. They have made human life super easy.
WE ARE PERSONALLY HERE FOR YOU!
Our customer support team will guide you through your shopping process for quick and simple experience.
Automated Blinds Dubai Have Made Our Lives Easy
Our Motorized window Blinds bring you so much convenience and style all at once. Featuring a battery-powered rechargeable motor; there is no involvement of tricky installations and tangling wires involved. This makes their installation easy and super quick. The remote control allows you to lower and raise the blinds with a touch of a button. The remote control is actually a super remote control. Best motorized blinds allows you to operate your blinds from any place of your home.
Choose from our huge variety of blackout shades, motorized roman blinds, motorized sheer blinds, and a lot more. Our blinds are very smart and luxury blinds. They provide you with control over privacy and light. Install your motorized shades and make your life relaxing and easy.
When you want to give your home a modern touch, there is nothing better than installing remote blinds. They enhance your home with a divine style. Moreover, we cannot neglect the benefits of remote control blinds Dubai. Nowadays people in UAE are moving from traditional blinds to electric blinds. We are the UAE's bestseller of motorized shades and blinds.
Benefits of Installing Remote Control Blinds Dubai
With its growing popularity, home automation is also becoming popular. Homes are now smarter than they were before. Dubai smart blinds provide so many benefits. Here are a few of the benefits of Electric Blinds Dubai.
Motorized curtains and blinds are very easy to use. They are convenient for old age people, and for disabled people.

They are safer as compared to any other blinds. they are cordless as we w that cords are hazardous for kids and pets.

They help you in getting better sleep. They also help you in waking up in the morning by setting the timer.

Motorized blinds Abu Dhabi protect your home from spying eyes. When the sun goes down they can automatically get down. All you have to do is set the timer for once.

Motorized shade Dubai save your energy bills.

They increase your home's value. They make it look stylish and modern

They make you feel comfortable and protect your interior as well.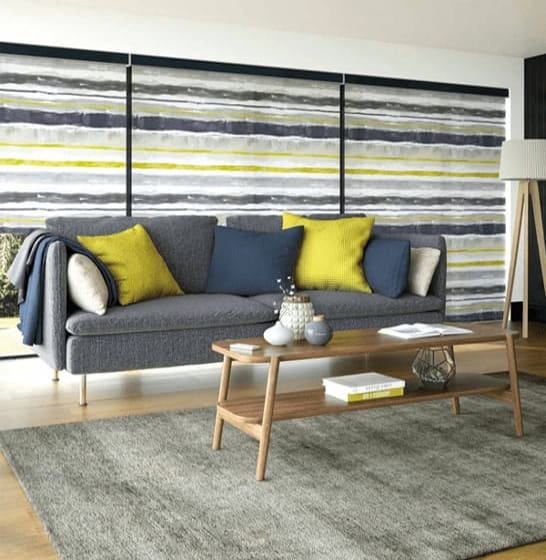 Why Choose Us?
At Flooring Dubai, we are selling the best quality Electric Blinds Dubai at highly reasonable rates. Our motorized shades are no 1in UAE. Check our stylish and elegant motorized shades in our gallery. The experienced staff makes the best out of the best material. We are proud of our team that makes it possible for us to deliver the best quality blinds and curtains to our valuable clients. You can contact us anytime.
Our team is available to answer you. We are working with an aim to provide the best products and installation services to our clients. Place your order for motorized blinds Dubai anytime from anywhere in UAE. We offer home delivery all over the UAE without taking any delivery fee & we would love to make the best blinds for you.
Get A Free Appointment Today