Get Trendy Terrazzo Vinyl Flooring Dubai
Request A Free Quote Online
Want an artistic floor without even paying too much? Then choose Terrazzo Vinyl Flooring. At Flooring Dubai, we offer 100% best quality Terrazzo vinyl sheets at very reasonable rates.
Affordable Terrazzo Vinyl Flooring Services in Dubai, UAE
Picture a home where you sat and have a cup of coffee with your friends. Terrace doors are open and the cool breeze is coming inside. The evening sun is spilling in the room and enlightening your terrazzo floor. Oh Damn, it feels amazing.
The terrazzo floor is simple to fit, and it looks unique and extra creative When you choose the pattern and color, keep your interior in mind. If you can afford it and you are a creative person, opt for the Italian terrazzo vinyl flooring. it alone is enough to grab all the attention. This is going to be the finest style statement at your home. Modern Terrazzo floors are not all about the stones and marble.
We have a vast range of  Vinyl Flooring for your home that you will fall in love with. Terrazzo flooring should always need to look practical and stylish that's why we have added a touch of a unique Italian feel. At Flooring Dubai, Vinyl Flooring cost less than you expect. Do not expect it to look the same as the marble and quartz are sealed in polished cement. It is beyond beautiful and going to create a luxury feel at your place.
Supplied in a roll of panels, Terrazzo Vinyl Flooring can't be simple. It is available in any length you require. Usually, terrazzo flooring in Dubai is in a small pattern. Do you want large patterned Terrazzo flooring? Not an issue. Talk to us, discuss your requirement, tell us the size and color scheme you require matching with your interior, and we will create the exact self leveling floor you are looking for.
WE ARE PERSONALLY HERE FOR YOU!
Our customer support team will guide you through your shopping process for quick and simple experience.
Terrazzo Vinyl Fooring Is Perfect Choice
When it comes to architecture and design with fine quality, versatile material, Flooring Dubai is on top. With Terrazzo Vinyl Flooring, our designers and architects are no 1 in UAE. Our terrazzo tiles are not only loved by homeowners, but they are also praised by hotel and high-end office owners. The beautiful style with its multi-colored designs will never fail to adjust at any place like office, hotel, restaurant, hospital, etc.
We love to make experiments and indulge our creativity in our floorings. Just tell us about your interior and we will create a unique floor for you.
Benefits of Terrazzo Vinyl Flooring
Nowadays, Vinyl Flooring is the preferred choice for new building projects. It not only looks nice but also very beneficial. Let's check their benefits.
Longevity:
Let me tell you an exciting fact, Terrazzo vinyl flooring lasts longer than the life of the building. The building usually replaces its floor after several years to get a fresh-looking floor, but Terrazzo flooring in Dubai eliminates the need to replace your floor.
No matter how heavy the foot traffic is, your terrazzo floor will remain like it is just installed.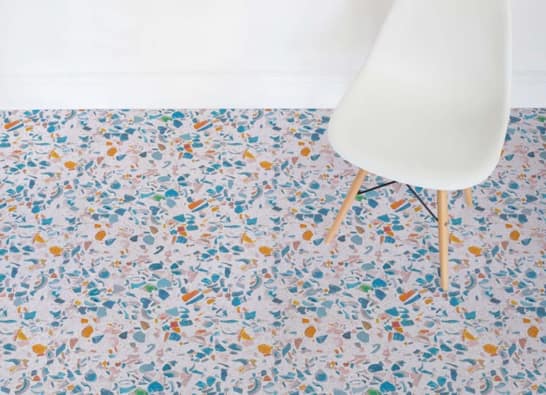 Low cost:
Vinyl Flooring is an affordable flooring solution for many people. When you compare the cost of a terrazzo flooring with the cost of other flooring treatments that need to be replaced after several years, it is then very cheap in price.
 Designing capabilities:
Terrazzo is famous for its creative look. No matter what color scheme and design you need, we will create a terrazzo floor in a design that will match your interior.
Environment friendly:
Terrazzo vinyl flooring is known as the most environmentally friendly flooring treatment. It is regarded as the first green flooring back in the 15th century. All the materials of our terrazzo floor benefit the earth and provide long-term benefits to the building as well.
Resistant surface:
It is very hard to damage the terrazzo floor. It is water. Stain, chemical, and fire-resistant floor as well. We add an extra protective layer to the terrazzo floor that makes it tough.
The terrazzo floor is also slip-resistant, which makes it is an ideal floor to walk on.
Why Choose Us?
At flooring Dubai we take orders for vinyl flooring in any design and color you need to match with your interior. Our terrazzo vinyl flooring is worn and tear-resistant. Install it and get tension free for your lifetime. It is one of the strongest and finest floors.
Place your order while staying at home. Discuss your needs and ideas. Share what you dislike and like for your floor. We will create a gorgeous design, share the sample with you. If you pass the design, then we will start making the floor. If you dislike it, we can make alterations as per your wish.
Our team will reach your home and install the terrazzo flooring to make your home look beautiful. We are one of the best terrazzo flooring suppliers in Dubai.
Get A Free Appointment Today