Parquet Flooring, featuring a totally "wooden" construction, isn't of course waterproof in the first place. Since its crafting origin is mainly timber, therefore, it's certain that wood can't be completely waterproof. However, there are certain ways in which this ability can be achieved, i.e. the Parquet Flooring can be made to become fairly resistant to water.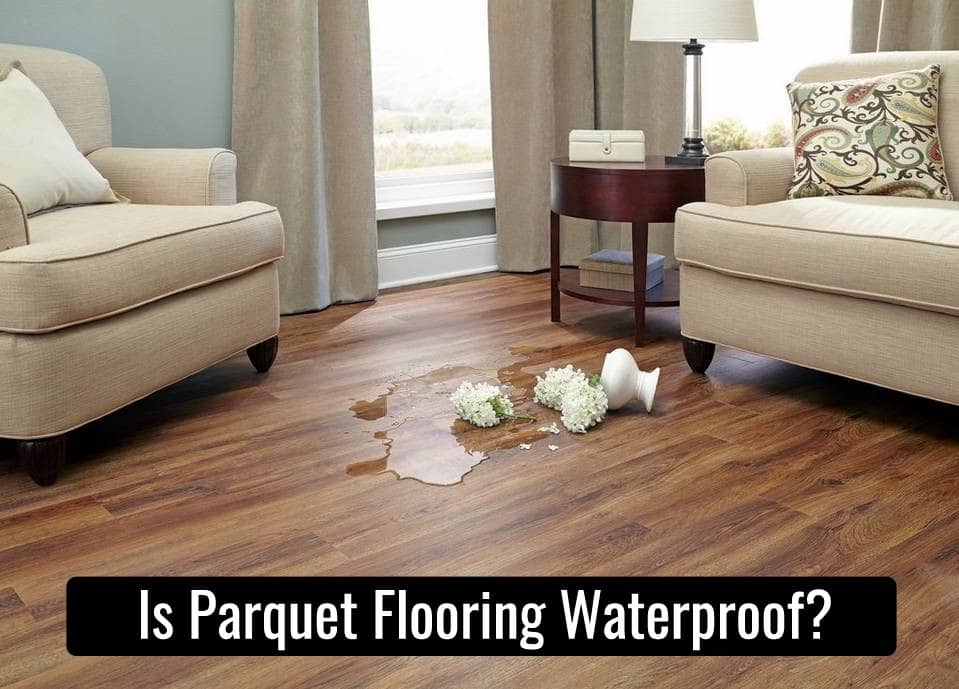 Parquet Flooring, or hardwood flooring, as it is sometimes called, initially has a bit of resistance to the spills and moisture, within both the solid wood and engineered constructed versions. Those of you who already have wooden flooring within any of their places would know that it's got somewhat resistant to water, however, it can't possibly bear a prolonged exposure to moisture, for sure.
How Do You Waterproof Parquet Flooring?
Making the Parquet Flooring waterproof can require certain products as well as techniques. Nevertheless, the resultant floor turns out to be greatly waterproof and surely more functional, too.
Careful Handling!
The first step in achieving a waterproof floor and to make them last longer is always a good look after. This mainly includes the careful handling of water reservoirs (jugs, bottles, etc.), so as to maximally reduce the chance of any spilling. After this basic advice (which you all know already!), next comes the careful cleaning of the floors.
Accurate Cleaning
Never use a too-damp mop or cleaning tool, and the one from which there is kind a water dripping down. This will turn out to be extremely dangerous for your floors and will drastically reduce their longevity. Always make sure that your mop is merely damp AND CERTAINLY NOT WET. Let the floor dry out completely afterward.
Okay, these were some pretty obvious yet much-ignored factors that can pose certain threats to the well-being of any and every floor.
Ahead are some techniques and associated products that can make the Parquet (or any other) Flooring rather waterproof
Essential Tips And Tricks For Waterproofing The Parquet Floor
1. Ensure The Right Prepping
No matter what your method of waterproofing is, it's always best to make sure that your targeted area (floor) must be adequately cleaned. This means that the floor needs to be absolutely free of any accumulation, such as dirt, dust, grime, moisture, greasing, prior to the sealing procedure.
For this purpose, we'll suggest that you carry out a thorough cleaning of the floor, followed by a dry mopping. Also, you can vacuum the floor, if you feel the need to do so, as this will ensure a perfectly dry and clean surface for beginning the waterproofing process.
In addition to that, you'll also need to make your working space, (the targeted room or area) utterly vacant and take out all the furniture and other stuff from it. This apparently tiring process will be very fruitful for you as there won't be any hurdles in your way while you carry out the waterproofing process.
2. Primer is Essential
Applying a primer on the floor is equally essential as it is prior to applying the makeup (Okay, back to the topic!). This primer thing is essential according to a lot of home décor experts. However, some also suggest that you go for "sanding" the surface, as well, in order to make the surface adequately clutter-free and ready for waterproofing.
3. Product Application
Lastly, we'll have to apply our waterproofing protagonist that can be either the "Urethane Waterproof Sealer" (popular one!) or some other similar sealing substance/resin that's going to seal the floor and act as a barrier between the native floor and the moisture (or spills!).
Start from a corner, be patient, and come all the way to the edge of the room. You can use any kind of paintbrush for this purpose. However, it's best that you use a paint roller, as it will ensure a smooth and even application of the product.
You can also make use of a waterproof membrane atop the sealer, since this is a much-recommended step, as well. If you aren't satisfied with a single coat application, or you believe your floor needs a second layering, then do go for another shot. BUT ONLY AFTER THE FIRST ONE HAS BEEN DRIED UP COMPLETELY.
Hoping for this guide to be helpful to you!