Flooring is probably the crucial part of any interior whether for home, office, or another commercial space. Natural wood textures are always in demand and trending nowadays. More and more people are opting for the floor that actually looks like natural wood & offers a lot of extra perks too.
In regard to this, we are here with two incredible flooring with natural wood looks. You'll be reading about Laminate Flooring vs. Engineered Wood Flooring Comparison Guide to know about the facts, features & other reasonable perks that can benefit you in several ways. Reading this article with keen interest will make you knowledgeable about both of these floors.
A Comparison Guide: Laminate Flooring vs. Engineered Wood Flooring
Both of these stunning flooring options are available with a great list of perks and do have a few cons too. This comparison guide will let you know about every single detail about these and you'll be surely able to decide between these two flooring options.
Consider it complete with proper interest and be sure to consider everything before you make your decision to find out which flooring will suit your preferences. Let's get started with the major differences!
Appearance and Comfort
These are two basic considerations while deciding on the type of flooring. The visual appeal and the comfort to use is the prior thing that you'll be needing for flooring.
Engineered Wood
Engineered wood flooring is actually the perfect imitation of real hardwood flooring. The topmost layer of this flooring is made up of solid wood.
This technical formation made the engineered wood flooring a study floor underfoot. However, this flooring is smooth and sprinter-free due to its pre-sanded and treated.
Laminate
Coming towards laminate flooring you may also think that it gives you a natural wood feel and from a considerable distance this can really fool someone with the real wood appeal but that's actually not the truth.
This flooring actually contains an image layer that is perfectly like wood and laminated with the coating to offer a shine. This flooring is actually comfortable and offers a bouncy feel underfoot due to its multiple-layer formation. It is actually comfortable to walk on barefoot but can act slippery with heels.
Water Resistance
Laminate
Laminate flooring has superior water resistance to hardwood flooring, but only on the top surface. It's possible that if the sides and bottom of the flooring become wet, it'll expand and deform.
If laminate gets wet on the sides or beneath it, it can't be repaired. You'll have to replace the damaged flooring instead. As a result, spills should always be wiped up immediately, and laminate should never be used in places with high humidity or moisture, such as kitchens or bathrooms.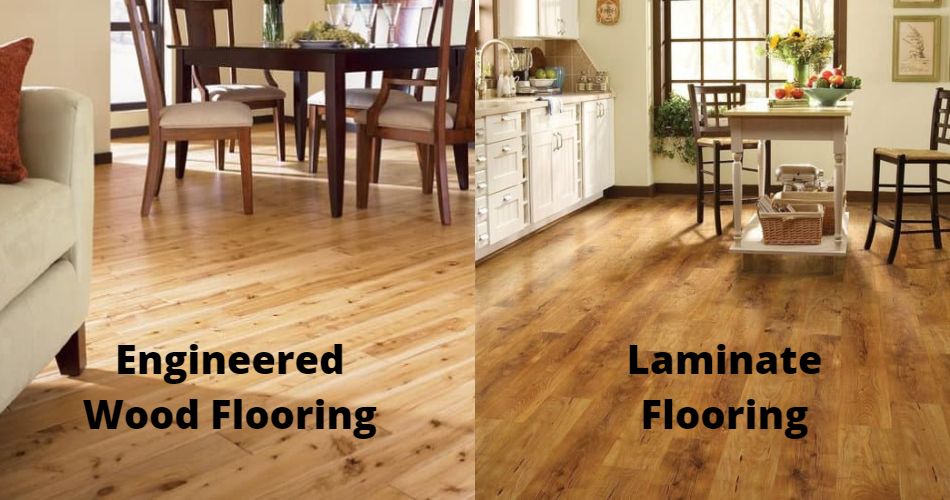 Engineered Wood
Engineered hardwoods are less water-resistant than traditional hardwoods. Because of its structure, it will not expand or contract in humid environments, making it ideal for installation in low-grade places where hardwoods are not permitted.
Even while engineered hardwood is more resistant to water, it is still vulnerable to damage. Spills should always be cleaned soon away, and wet mopping should never be used on engineered hardwoods.
Installation
Nail-down or glue-down procedures are commonly used to install engineered wood flooring. By adopting click-lock joinery, certain newer varieties of engineered flooring may be installed without a subfloor.
Engineered hardwood flooring takes a lot longer to install than laminate flooring. As a floating floor, laminate boards are only attached side-to-side, never to the subfloor or underlayment. The weight and friction of the flooring prevent it from slipping after it is installed. It's simple to cut laminate boards using a handsaw or even a utility knife.
Heat and Environment
Engineered Wood
Engineered hardwood flooring features a high-quality plywood foundation core that is dimensionally stable.
This means that when exposed to water, the layers of plywood, when placed perpendicular to one another, tolerate swelling and expansion better than laminate or even solid hardwood. Although engineered flooring can scratch and gouge, little scratches can be sanded out with a sander.
Laminate
Laminate flooring may be laid in semi-wet situations as long as the boards are properly seamed. Allowing water to seep through the seams will cause the bottom fiberboard core to bulge. After drying, laminate flooring does not return to its original shape.
Sanding laminate flooring is impossible. Making repairs is tough, if not impossible. The best way to repair damaged laminate is to replace it with new laminate boards. Deep scratches are uncommon on the top wear surface of laminate flooring, which may be fairly tough and durable under normal use.
Durability
Engineered Wood
The beauty of hardwood flooring cannot be overstated. However, they are readily damaged and may turn dull with time. Long waxing and expensive refinishing are essential.
The top layer of engineered flooring is made of solid wood, which makes it more durable. As a result, this type of flooring is just as susceptible to damage as solid hardwood. Scratches, dents, and dings are just a few examples.
Laminate
Laminate flooring is a popular choice for families with children or pets, as well as anybody searching for a low-maintenance, stain-resistant option. It is far more scratch-resistant than hardwood flooring and will not dent.
Laminate flooring is stain- and fade-resistant. Laminate will eventually chip, and you won't be able to refinish it, so you'll need to replace it. Because it is so resistant to scratches and other damage, laminate is the best choice in flooring when it comes to durability.
Maintenance and Care
Engineered and laminate flooring are comparable in terms of cleaning and upkeep since both are delicate surfaces that should never be wet cleaned.
The easiest way to maintain these types of flooring clean is to use a dry brush or dry mop as frequently as possible.
Avoid using steamers and moist mops. Ammonia-based cleaning solutions should never be used. If you need to apply the liquid to the surfaces, squeeze the mop as much as possible until it's virtually dry.
In The End!
Engineered flooring is the best choice for a floor that looks like real hardwood but is easy to care for. If you want to save money on your floor covering, laminate flooring is a better option than engineered hardwood flooring, especially when paired with self-installation.
You may choose from a variety of flooring options to meet your demands. Choose the finest solution for your location and go around feeling safe and protected.